The Bogalusa Heart Study
BHS Charts Risk Factors in Child Health
Original Article Tulane Global Health News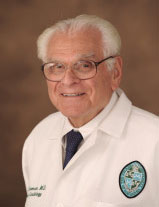 Gerald Berenson, MD, and his team at the Bogalusa Heart Study have been collecting health data about childhood heart disease risk factors and their lifetime implications for 39 years, making it the longest running biracial health study in the world. The study has generated thousands of peer-reviewed articles and provided hands-on training for hundreds of medical and public health students. Berenson just published his third book about lessons learned from theBogalusa Heart Study: Evolution of Cardio-metabolic Risk from Childhood to Middle Age (Springer, 2011).
"We started our study with school-age children, from 5 to 17 years old. Because of the results we went down to preschool age, 2.5 to 5.5 years old," says Berenson. Ultimately, the Bogalusa team sought birth records to try to answer questions about birth weight and heart disease and diabetes risk. A majority of the people who began participating in the study as school children continued to come back to the Bogalusa clinic for follow-up health checks as first years, and then decades rolled by, creating a generation of heart health data.
The secret to the loyalty and commitment of the study participants was becoming partners with them in their health, says Berenson.
"When we did a physical examination for the study, we sent back information to them and their doctor and referred them to their private physicians if they had them. If there was any kind of medical problems I went and examined them myself and took care of them. I had 4,500 patients to look at initially," Berenson recalls, wryly. The study has screened over 16,000 individuals in the Bogalusa area over the duration of the study.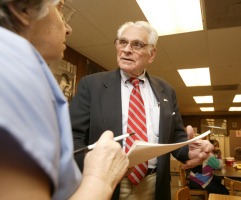 Research results from the Bogalusa Heart Study demonstrated that when risk factors for metabolic syndrome and heart disease are present in childhood, related health problems such as high blood pressure, hardened arteries, heart disease, and diabetes are more likely to occur in adulthood.
"Now we are looking at longevity and doing genetic studies," says Berenson, who is working with his staff to develop a formal archive of the Bogalusa Heart Study. He also is building international collaborations with researchers from nations including Finland and Australia that have been studying health data over the lifespan.
Despite his contribution to the understanding of children's heart health, Berenson says there are still many questions he wants answered, among them: "I'd like to know why are so many prescriptions given for attention deficit/hyperactivity disorder, how to control violent behavior, how to overcome the inertia in schools to teach proven health education."
Berenson and his team have tried to solve that last question with a health education program called Health Ahead/Heart Smart. The K – 6 health curriculum which was implemented for nearly 7,000 students in Washington Parish schools and resulted in better control over weight gain among participating students as well as better fitness results in national tests.